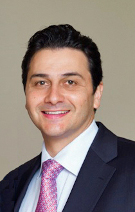 Jonathan Samuel, PFP
Founder & President
Jonathan Samuel is the Founder & President of Westgate Wealth Management Inc. Jonathan specializes in managing the financial affairs and unique wealth management needs of business owners, executives & professionals. Through Jonathan's many years of industry experience, he has developed comprehensive wealth management solutions for High Net Worth individuals, family trusts, investment holding companies & active corporations. Jonathan has based his practice on providing innovative and customized solutions for managing and preserving personal wealth for self-employed entrepreneurs, physicians and professionals. Jonathan employs a holistic strategy which encompasses total wealth management, which includes, asset oversight, tax minimization strategies as well as wealth, estate & philanthropic planning.
Jonathan has extensive experience working in the financial services industry in Canada for over 15 years. He has worked for a number of high profile wealth management firms covering different roles and facets of the financial industry. Prior to founding Westgate Wealth Management, Jonathan was Senior Vice President of Cardinal Point Wealth Management, a cross-border wealth management firm defined as the leading cross-border wealth management firm both in Canada and the United States. Prior to his role at Cardinal Point Wealth Management, Jonathan worked as a securities licensed Financial Advisor at Assante Capital Management, a premier Canadian wealth management firm. He developed and implemented customized portfolios for his client and was and early adopter of fee-based wealth management as well as low cost Exchange Traded Funds (ETFs) when they first became available in the Canadian investment market.
Jonathan began his career working at Assante Asset Management as an associate in their High Net Worth, Private Client Division focusing on affluent Canadian families. He later became a partner in a financial advisory practice that focused on working with high net-worth professionals and entrepreneurs. Jonathan holds a Bachelor of Arts degree from The University of Western Ontario and has studied extensively at the Canadian Securities Institute.  He also holds in good standing his PFP© Financial Planning designation.